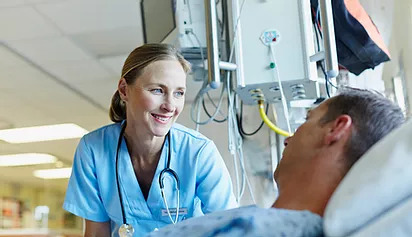 NYUPN is involved in a number of public and private initiatives designed to improve the quality of care.
For example, the NYUPN is currently participating in innovative shared savings agreements with Aetna, Cigna, Empire Blue Cross Blue Shield, Emblem, Oxford and United Healthcare. We are also participating in Medicare's Comprehensive Joint Replacement initiative.
We have developed care coordination programs which offer clinical resources to help patients of NYUPN physicians manage their health and help NYUPN physicians better support their patients outside of the doctor's office.
Through these innovative programs, NYUPN aims to improve the quality of care delivered and reduce health care costs across our clinically integrated network.
Comprehensive Care for Joint Replacement (CJR)
The Center for Medicare and Medicaid Services ("CMS") has implemented a mandatory episode of care program for total joint replacement titled "Comprehensive Joint Replacement" (CJR).  NYU Langone Health will be entering into CJR on October 1, 2018 through December 31, 2020. MS-DRGs in the program include 469 (Major Joint Replacement of Lower Extremity w MCC) and 470 (Major Joint Replacement of Lower Extremity w/o MCC).
​The below list of physicians are engaged in care redesign with NYUPN through the Comprehensive Care for Joint Replacement (CJR) program. Under CJR, NYU Langone Health and collaborating physicians may share payments received from Medicare as a result of reduced episode spending and hospital internal cost savings.
​Physicians seeking to be CJR collaborators must be in compliance with all Medicare provider enrollment requirements and achieve at least 75% on quality performance metrics per applicable performance period. The quality performance metrics, which shall directly relate to episodes of care, shall be determined by the hospital and set forth in a hospital policy and CJR collaborator letter of agreement.
For more information about the CJR program, please visit https://innovation.cms.gov/initiatives/cjr
~~Physicians:
JOSEPH ZUCKERMAN

VLADIMIR TRESS

JAMES SLOVER

NACHUM LEVIN

THOMAS YOUM

KENNETH EGOL

JUSTIN LAMONT

GREGORY MONTALBANO

SCOTT MARWIN

JOSEPH BOSCO

CLAUDETTE LAJAM

ROY DAVIDOVITCH

EDWARD ADLER

ALAN DAYAN

IVAN FERNANDEZ-MADRID

TIMOTHY RAPP

NIRMAL TEJWANI

CRAIG CAPECI

TONI MCLAURIN

STEVEN STRUHL

JEAN SHIM YUN

STEVEN SHESKIER

RAMESH GIDUMAL

PATRICK MEERE

GUILLEM GONZALEZ-LOMAS

MICHAEL KANG

SANJIT KONDA

WILLIAM JOHN LONG

CALOGERO GAMBINO

THOMAS LYON

VIJAY JOHN MANI

ALDO VITALE

JONATHAN SILVER

CRAIG STANTON RADNAY

MICHAEL ALAIA

RAYMOND WALSH

RAN SCHWARZKOPF

KIRK CAMPBELL

STEVEN RAVICH

WILLIAM MACAULAY

JEFFREY SHAPIRO

MANDEEP VIRK

CARY CHAPMAN

PHILIPP LEUCHT

AJIT J DESHMUKH

LAZAROS POULTSIDES

TIMOTHY REISH

MORTEZA  MEFTAH

JAMES CAPOZZI

OMID SAM BARZIDEH

JASON GOULD

JAN KOENIG

GREGORY SIROUNIAN

JEFFREY MEYER

JAMES KIPNIS

ADAM MARCHBEIN

JAMES MORIMANDO

OMAR SALEEM

BRYAN DING

HENOCK WOLDE-SEMAIT

MEGAN CHAPTER-ZYLINSKI

MEAGHAN KEANE

KIMBERLY SOMMER

LUZ  GARGIULLO

ALISSA  KELLY

IOANNIS ZOUZIAS

CHRISTOPHER BREEN

MEREDITH A LAZAR

MICHELE WHITE

NICOLE GELLERT

REBECCA  WONG

ADAM NEIL WILSON

MARK G GROSSMAN

MEGAN ORBON

JACQUELINE RAGUDOS

KIMBERLY APOLINAR

JOHN GAFFNEY

SHARON NEWMAN

KATERINA PASHOS

GLENN A TEPLITZ

PARTHIV RATHOD

JOSHUA CRAIG ROZELL

MATTHEW S. HEPINSTALL

VINAY K AGGARWAL

JUSTEN HANI ELBAYAR
Policies, Eligibility Criteria, and Methodology for Gainsharing
For CJR sharing payments to CJR collaborators, NYU Langone Health (NYULH) will utilize a gainsharing formula that incentivizes cost efficiencies through improvement and achievement scores within both the NYULH internal cost savings (ICS) and Medicare savings domains. NYULH must first achieve an overall positive Reconciliation Amount in order for the gainsharing program to take effect. Individual CJR collaborators eligible for the gainsharing program include the principal procedure surgeon associated with the CJR MS-DRG and are limited to surgeons within the orthopedic total joint department.
NYULH will calculate ICS on an annual basis using the internal cost accounting data that is available through the NYULH Decision Support System based on direct costs by MS-DRG for the performance period compared to a baseline period of fiscal year 2016 (using NYULMC fiscal year of September 1, 2015 – August 31, 2016). To quantify the internal cost savings achieved, NYULH will take the difference of the average direct cost per MS-DRG from the performance period from the average direct cost of the baseline period and multiply it by the volume of the performance period. 11% of the ICS savings will be available for gainsharing within the savings pool. We anticipate internal direct cost savings to be generated by reductions in 1) supply and implant costs, 2) room and board costs, which correlate to length of stay (LOS) reductions, and 3) OR costs, which correlate to the length of time a patient spends in the operating room. Internal analyses have shown significant variation in these three key cost drivers by physician when comparing individual performance among surgeons performing the same procedures on Medicare patients.
Each physician will be evaluated based on a quality and cost formula. Each physician will receive gainsharing according to their performance against the formula. Any funds that are remaining would be allocated to NYULH. We anticipate that there will be savings resulting from decreases in actual Medicare spending below the target price due to care redesign. Specifically, we anticipate cost savings to be generated through three actionable opportunities to reduce Medicare costs, including 1) choosing a medically-appropriate, but more cost-efficient post-acute setting, 2) reducing readmissions, and 3) reducing excess utilization/testing and redundant physician consults.
Derived from CMS's value- based purchasing methodology, the total dollars rendered within the internal cost and Medicare savings domains will be determined by using the higher of the gainsharer's achievement dollars or improvement dollars. No risk- adjustment methodology aside from the MS-DRG will be used as consistent with CMMI's policy position for BPCI. The improvement calculation will be based on if a physician's costs are less than or equal to their own baseline cost. The achievement calculation will be based on if a physician's costs are lower than the cost achievement threshold set at the Medicare target price for the Medicare cost domain, and the MS-DRG weighted average cost for the NYULMC cost domain.
Medicare savings will be given a greater weight than ICS savings. For the ICS pool, the domain dollars (higher of achievement or improvement) will be multiplied by a 35% weight. The domain dollars will then be multiplied by the quality performance score. For the Medicare savings pool, the domain dollars (higher of achievement or improvement score) will be multiplied by a 65% weight. The domain score will then be multiplied by the quality performance score. The ICS and Medicare dollar amounts will be added to calculate the total incentive payments. Physicians are then eligible to receive 11% of their total savings, as calculated by the achievement/improvement formula.
To be eligible to share in any gains, the CJR collaborator must demonstrate delivery of high-quality care by meeting the quality performance standards set by the Bundled Payment Steering Committee. NYULH will utilize a quality performance index that targets both the inpatient hospitalization and 90 days post-discharge. The composite quality score functions as a weighted composite index between 0 and 1. Performance on each measure is calculated using section weights (Measure Score Calculation: (Points Earned * Section Weight) / (Points available * Section Weight). The quality score will be calculated by DRG for each gainsharer for the performance period. The quality measures are specifically targeted to drive physician behavior change across the episode (Figure 1). Quality thresholds will be set based on the physician's quality score. Physicians with a quality score that is equal to or lower than 0.5 will receive 0% of their potential savings. Physicians with a quality score between 0.5 and 1.00 will receive a portion of savings based on a multiplier of their quality score. We will possibly increase these thresholds in later quarters of the initiative, after longer-term evaluation of performance. NYULH anticipates that quality measures will evolve over the demonstration period and expects to expand the measures. If quality and cost metrics are not met, remaining funds are distributed back to NYULH.
Governance
Processes and tracking systems to monitor the collection of ICS and NPRA will be based upon the methodology previously in place for NYULH's BPCI program. The Vice President of Finance, who oversees both Accounts Payable and Payroll, will be responsible for the distribution of gainsharing payment amounts to gainsharers. Gainsharers who are members of the NYU Faculty Group Practice (FGP) will receive their gainsharing payment as an electronic funds transfer. The gainsharing payments will be taxed in the pay period received with other earned income. Non-FGP gainsharers, including voluntary physicians, will be set up as vendors in NYULH's Accounts Payable system. Gainsharing incentive payments made to non-FGP gainsharers will be reported by each gainsharer and taxed through the 1099 Tax Form at year end.
The governing body that will oversee the operation of CJR incentive payments is the NYUPN Clinically Integrated Network Board. The NYUPN Board, comprised of a contingency of hospital administration as well as faculty and voluntary physicians, will be responsible for oversight of the gainsharing arrangement, including the determination of the Savings Pool and how incentive payments are calculated and allocated. The CJR collaborator and its employees and contractors must comply with the applicable provisions of CJR (including requirements regarding beneficiary notifications, access to records, record retention, and participation in any evaluation, monitoring, compliance, and enforcement activities performed by CMS or its designees) and all other applicable laws and regulations. The CJR collaborator must be in compliance with all Medicare provider enrollment requirements including having a valid and active TIN or NPI, during the term of the agreement. Finally, the CJR collaborator must have a compliance program that includes oversight of the collaborator agreement and compliance with the requirements of the CJR model. To monitor eligibility and performance, dashboard performance reports will be maintained at departmental and physician levels using data feeds from NYULH's Electronic Data Warehouse and CMS claims data.
Physicians can voluntarily enroll in the Gainsharing Arrangement by reading the CJR collaborator letter of agreement and signing the agreement. The Gainsharing Arrangement is an upside-only incentive for the gainsharers, however, if gainsharers wish to disenroll or change their incentive payment election preferences, they may do so at any time by contacting their clinical Chair. The agreement specifies that enrollment is voluntary. For voluntary physicians, the individual practitioner signs the written gainsharing agreement. For faculty group practice physicians, the Senior Vice President and Vice Dean for Clinical Affairs and Strategy and Chief Clinical Officer, has signed the written gainsharing agreements on behalf of the NYU Faculty Group Practice.